Your Child with CAH

Dr Gary Warne—RCH, Melbourne
As one of the first books published to assist family education on CAH, this book is essential.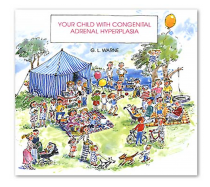 It gives a good sound overview on the basics of CAH and is very light on with technical phrases. Illustrations make this book suitable for older children to learn about their condition as well.
If you haven't learned the basics or want to have an easy to read overview this book is excellent for children through to adults.
Congenital Adrenal Hyperplasia (CAH)
British Columbia Children's Hospital, Canada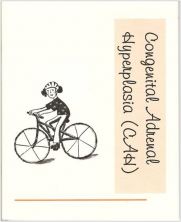 CAH is never an easy condition to explain in simple words, nor is it easy to completely comprehend this condition the first time that one is presented with it. However we are fortunate that there is now more awareness of CAH and that more people are putting pen to paper to help parents of newly diagnosed infants/children understand this complex condition. The first of course to put pen to paper on this topic was, Professor Garry Warne some eighteen years ago with his publication, "Your Child with CAH".
A booklet which has been around since 2003 and was published by the British Columbia Children's Hospital, Canada and simply entitled 'Congenital Adrenal Hyperplasia (CAH)' is another such publication.
The information presented in this booklet would be particularly useful for parents of a newly diagnosed CAH child as it is concise, without being too technical and overwhelming.
Apart from general information about how CAH is diagnosed and treated, (including the use of hydrocortisone injections) there is an overview of special issues encountered for girls throughout the newborn period, infancy, childhood and adolescence.
Furthermore there are answers to some of the more regularly asked questions, including discussion about inheritance and the likelihood of other children in the family also having CAH.
As it is a Canadian publication some of the treatment modes may vary from Australian standards. Nevertheless this is a handy and helpful publication especially for those dealing with the difficult early days after diagnosis.
CAH – A Parents' Guide

C.Y Hsu and Scott Rivkees, MD.
This exceptional new book is an invaluable manual for anyone affected by CAH. Although entitled a "Parents' Guide" it would also be well received by both adolescents and adults with CAH.
This 282 page book is co-authored by the mother of a CAH son and world renowned Endocrinologist who has shown a special interest in CAH, Dr Scott Rivkees. This joint effort has resulted in a remarkable collection of knowledge for the interested person covering a host of topics.
The main topics are divided under the following chapters but have so many components of interest packed in.
ÞWhat is Congenital Adrenal Hyperplasia?
ÞThe Inheritance of CAH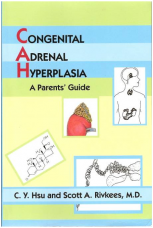 ÞRecognizing the Symptoms of CAH.  
ÞThe Tests Used to Diagnose CAH 
ÞGlucocorticoid Treatment for CAH
ÞMonitoring Glucocorticoid Treatment in CAH 
ÞMineralocorticoid Treatment and Monitoring
ÞOther medications used in Treatment of CAH 
ÞStress coverage during illness
ÞSurgical restoration for girls with CAH
ÞPrenatal Treatment of CAH
Although these topics may sound 'heady' and difficult to understand the book is written in such a readable style and with the exception of a few American spellings (which I'm sure we can excuse) it is truly a mine of information.
Furthermore there are numerous charts, diagrams and conversion tables which clarify the written text. Also helpful are the Frequently Asked Questions with answers from the Endocrinologist.
A wonderful resource!
DSD Handbook for Parents
Intersex Society of North Amercia
What is DSD?
DSD is a term that is used more and more these days to describe conditions like Congenital Adrenal Hyperplasia (CAH). It is an abbreviation for 'Disorders of Sex Development'.
The Intersex Society of North America has put together a Handbook for Parents on DSD Guidelines. Unlike other books that cover multiple DSD conditions, this book has been broadly written to ensure it is relevant across the range of DSD's. This book is immensely helpful for families affected by CAH and we highly recommend it.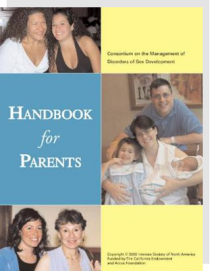 Some of the content covers –
Helping yourself to help your child
How to talk to your child from ages -
12-36 months

3-5 years (Pre-schoolers) 
6-11 years
Puberty
11-18 years (Adolescence) 
Adult
How to talk to others
Resources on –
how genital development happens
things to do and avoid
preparing for a medical appointment
Congenital Adrenal Hyperplasia – a 3 in 1 Medical Reference

Parker & Parker
For those of you who like to research information about CAH in more depth, we have several copies available of a boo k that would be ideal for you! This manual incorporates a Medical Dictionary with 34 pages of terms directly and indirectly related to CAH; some genetic terms, as well as, terms for general medical understanding.
An Annotated Research Guide with hundreds of references to peer reviewed trials and studies. Most of these are internet referenced and come up on screen as PubMed abstracts. As these abstracts are completely referenced, such as the name of the journal in which it was originally published and the issue and date of publication, this enables the searcher to then find the full text articles of interest at a university medical library or through your local library request system. When visiting any library take a printed copy of the abstract with you so you have all the details you need to locate or request the article.
Finally, there is an extensive Bibliography with internet URLs and databases.
This book was published in 2004 - so relatively recently! As this is an American publication some of the patient resources and medical libraries will be irrelevant to us, but this is only a minor component of this otherwise useful manual.